2 Corinthians 4:5-6: For what we proclaim is not ourselves, but Jesus Christ as Lord, with ourselves as your servants for Jesus' sake. For God who said, "Let light shine out of darkness," has shone in our hearts to give the light of the knowledge of the glory of God in the face of Jesus Christ.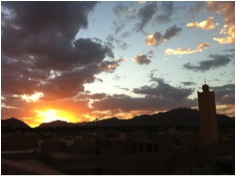 I write to you from a moving train headed to our next destination. Sitting directly in front of me and behind me are ladies wearing veils. A little boy is roaming the isles laughing and smiling as his dad just gave him a bag of snacks. Outside my window I see farmlands with clusters of homes sitting on them. There are rows of train tracks following alongside of us that will allow many others to get to their desired destination. My husband sits next to me busy working on some paper work. Life is in action. The sun shines bright and the clouds are placed beautifully in the sky. My ears are covered with headphones as worship music resounds in them. My heart is at peace… but, the lady that sits behind me and in front of me, the little boy roaming the isles, and the dad playing with him… they can't fathom this peace, they do not understand the love and grace that is bestowed on us. My heart is overwhelmed.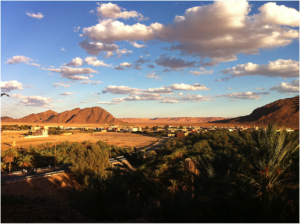 2 Corinthians 3:16-17: But when one turns to the Lord, the veil is removed. Now the Lord is the Spirit, and where the Spirit of the Lord is there is freedom.
Our journey to the ends of the earth continues. We spent the last 10 days traveling to and from a small people group in North Africa. It took a long, hot, and uncomfortable train ride to arrive at the destination where we would take a long, hot, and uncomfortable bus ride to get to this people. It was a journey… but, a journey well worth it all. The arrival is always sweet. We are welcomed by beautifully placed mountains, rays of sunshine, and date trees strategically placed amidst the gardens. It is a dessert location. It was dry and hot. The streets were full of women completely covered in white and men and kids riding around on bicycles.  The kids were getting out of school so as the bus rolled into their little town and they saw Americans on the bus, the grinned, laughed, and pointed at us. After a small, gentle wave, their faces glowed as they waved back. The maison (hotel) that we stayed at was full of their culture and comforts. It was a joy to continue relationships with the sweet women and kids that would cook for us. Behind the veil is a woman. A woman of kindness, one who cooks and cleans, one who has emotions as we do, who is broken, who feels unwanted and desired, and yet shows hospitality and loves us as if we were her own. Cooking and eating with these women is such a joy. The walls and veils begin to break as they begin trusting us more. They laugh at how I try to speak their language and the innocence of not knowing how to cut potatoes as well as they do! At one point we got one of the younger girls to show us her gymnastics skills, the little boy laughed as he told us his favorite Mr. Bean episode. These people are real. They laugh and cry, they watch television and play on facebook, they fight with their school piers, and they have strengths and weaknesses. They have real hearts and souls.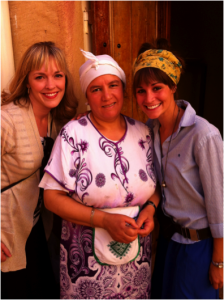 Now continue your imagination with me and think of a people group made up of thousands of people in whom no one has EVER cared to pray for. No one has EVER cared to go to them and share with them this grace that we are able to FREELY embrace every single day. So, we went. We went to the ends of the earth. I can't tell you that we saw life change. I can't tell you that we built them a church or orphanage; I can't even tell you that we shared the Gospel. BUT, what I can tell you is that we… for the very first time as a team, prayed for these people. My body just filled with goose bumps. Let me say that again… for the very first time, a corporate group prayed for these people! Let me tell you, there is power in HIS name and in HIS name alone. We begged the Lord would grant these people favor and bestow the same grace that He has given to us… to them.  Apart from Him, the Gospel will not go out amidst these people. So, for 4 days we walked the streets, we walked where they walk, we sat where they sit, we touched the walls that they touch, we heard the call to prayer that they hear 5 times a day, we rode bikes as they rode bikes, we cooked with them when their was a opportunity, we held and played with the children, we touched this place. Amidst the sitting, the eating, the walking, the biking, and hearing what they hear… we prayed. We prayed over their feet tracks and over their dinner tables, we prayed that the call to prayer would one day be replaced with worship music. We prayed for the very first time as a unit for these things for these people. And that is what I share with you today… the power of prayer. I believe in it. I have faith in it. I claim it.
These people have names. They have faces. Pray with me. Pray with me in faith knowing that apart from Him, this mission WILL BE impossible.
We do not DO missions… we are ON mission.
Nehemiah 1:11- O Lord, let your ear be attentive to the prayers of your servant, and to the prayer of your servants who delight to hear your name, and give success to your servant today, and grant him mercy in the sight of this man."
Continue to Pray for us as we continue our journey here in North Africa. We will return soon.